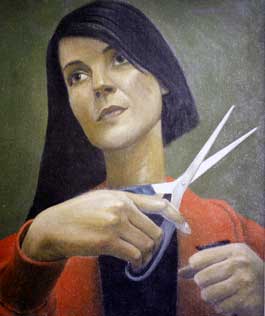 Benni Esposito was an exceptionally talented artist, comedian and musician. He was born in London but raised by his parents in Carnoustie, a small seaside town on the east coast of Scotland along with his older sister Sharon and younger brother Martin.
He studied at Duncan of Jordanstone College of Art in Dundee where in 1999 he graduated with a First Class Honours in Fine Art (Drawing and Painting). He returned in 2001 and gained the qualification of Master of Fine Art. Soon after this he began teaching at the art college where became an extremely popular lecturer. Benni's undoubted talent and love of art has lead to an art award being set up in his memory. You can find more about 'The Benni Esposito Award' within this site.
Under the stage name of Ben D'Arcy he began performing stand-up comedy in 1997. This eventually led to him appearing throughout the UK as well as writing for various television programmes. Benni also successfully co-wrote and performed in 'The Road from Dundee', which was first performed at the Edinburgh Fringe Festival in 2000.
Benni also played bass guitar in the melodic punk band Broccoli. They successfully toured the UK several times as well as Europe and Japan.
Throughout his life Benni's creative, enthusiastic, loyal, humorous and loving character made him many friends all over the world.
This site has been created to offer an insight into the life of this gifted person and is dedicated to the memory of Benni.