The Benni Esposito Drawing Award Presentation
Friday May 19th 2006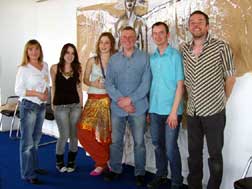 Sharon Esposito, Hannah Livingston,
Joanna Helfer, Bruce Shaw,
Martin Esposito and Ian Sturrock.
The presentation ceremony of the inaugural Benni Esposito Drawing Award was a great success and a fantastic day. The setting up of the award has taken a lot of planning, hard work and commitment from a number of people. I personally found the whole experience very emotional and extremely fulfilling. It was heart warming and gratifying to be part of something where everyone was so keen to put in so much time and effort for my brother.
The ceremony was held in the Reception Room of the Duncan of Jordanstone College of Art in Dundee, Scotland. This was the perfect setting. Benni spent so much of his life in the Art College that I truly believe he will always be part of that place. The view from the Reception Room was amazing. It was a beautiful day and you could see right across the river Tay as well as down the Perth Road towards the city centre.
There were about 30 people at the ceremony. Those present were mostly close friends of Benni as well as the award winners, their friends and staff from the art college. I was accompanied by my sister Sharon and my fiancée Jo. Refreshments were provided and there was time before the ceremony for people to chat and catch up.
The ceremony was introduced by artist, lecturer and close friend of Benni, Ian Sturrock. Ian co-led the drawing programme at Duncan of Jordanstone along with Benni. I found it very touching as he spoke of Benni as an artist, lecturer and friend. Within his speech Ian explained the justification for setting up the award and it's importance to the first year general course and the art college as a whole. He talked about Benni's talent as an artist, how instrumental he was in the development of the drawing programme and how inspirational Benni was as a lecturer. Ian then explained why this years winners had been chosen and spoke of their talent and individual qualities. Bruce, Joanna and Hanna had all produced fantastic portfolios, had worked extremely hard and demonstrated the commitment required to succeed in their chosen specialities. He finished by introducing my sister and I to present the awards.
Sharon and I had both prepared short speeches for the ceremony. Sharon spoke of Benni's love of life and his many talents other than art including music, writing and comedy. I spoke of Benni's long attachment to Duncan of Jordanstone including my first memory of him attending the college. This was when he was about ten years old and his artistic talents had been spotted by his primary school teachers who helped him gain a place on a part-time course. I also mentioned Benni's eventful but extremely successful year as president of the Art College Students Union.
After thanking some of the people involved with the establishment of the awards Sharon and I were then delighted to be able to present the three winners of the first Benni Esposito Drawing Award with their cheques. The winners were Bruce Shaw, Joanna Helfer and Hanna Livingstone.
My sister and I were then shown some of the winners work which was on display at the ceremony whilst Ian explained what had made these artists stand out. We found this a real honour and it was brilliant to be able to speak to the winners and see how delighted they were in gaining the award. We ended the ceremony in true Benni fashion by heading over to Droothy Neebors for a wee drink or two.
The ceremony was a truly amazing and moving experience for me. I was so glad that I was able to be there and honoured to be invited to present the awards. I felt very proud of Benni that day and am delighted that this award will continue in his memory.
Martin Esposito.