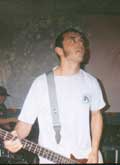 Benni Esposito intimation
Benni D'Arcy Esposito
Artist, Lecturer, Stand-up Comedian, Musician
by Iain Sturrock
During the nineteen-nineties Benni began to go to stand-up comedy gigs with the intention of becoming a stand-up comedian. In 1997 he did his first gig and quickly established himself both in Dundee and Edinburgh. After his graduation in 1999 he moved to London where he developed both his careers as an artist and a comedian. His writing for his performances was iconoclastic and characteristically controversial. He performed under the name of Ben D'Arcy, typically wearing the tightly tailored mod suits that he so loved. In 2000 he co-wrote and co-performed in "The Road from Dundee", an irreverently honest appraisal of the City of Discovery. This show gained both criticism and approbation from the people who saw it. His comedy career also involved writing for Channel 4's "The 11 O'clock Show", and he also took part in various television and radio programmes as a reviewer, commentator and performer.
In 1993 he began the General Course at Duncan of Jordanstone College of Art where he threw himself into the social life of being a student. Also during this year he joined the band Broccoli, in which he played the bass guitar. Although not the most supple of bass players he brought to Broccoli both flamboyance in their live gigs and an organisational élan behind the scenes. These seemingly contradictory character tropes were typical of Benni throughout his varying projects. During the next four years he toured with Broccoli in Ireland, Europe and Japan. He particularly enjoyed his tour of Japan, where his lack of reserve captivated many of the Japanese people he met. His career with Broccoli intertwined with his studying and in 1995 he took a year out from Duncan of Jordanstone to be President of the Student Association of that college. He revelled in this role and was successful in turning the Association into a profitable enterprise for the first time in many years. Rather than return to college after his year in office he opted to tour with Broccoli. This meant that he resumed his studies in 1997 when he began to seriously explore the medium of oil painting. In 1999 he graduated with a First Class Honours in Fine Art (Drawing and Painting) and was awarded the James Guthrie Orchar Travelling Scholarship. His degree show was the beginning of a profitable career as a figurative oil painter.
In 2001 he returned to Dundee to gain the qualification of Master of Fine Art at Duncan of Jordanstone College of Art. His teaching career began in earnest at this time when he held evening classes at Duncan of Jordanstone in both portraiture and life drawing. The year after he had a solo show of painting entitled "Toasting the End of Europe" at the Park Gallery in Falkirk. This show was a spur for Benni to focus more on his visual art and wind down his comedy career. In 2003 he stopped performing and began lecturing on the Drawing Programme at Duncan of Jordanstone. For the next year and a half he combined his career as a visual artist with leading the Drawing Programme in partnership with another artist. As a teacher he was both charismatic and technically astute.
Benni's ability to flourish in his varied careers revealed his intelligence and his capacity for both self-reflection and self-awareness. He brought a marked physical and mental energy to all his projects: one of his trademark endings to a Broccoli gig was to somersault off of the stage. His frame of reference was vast. Benni was at ease in free flowing conversation that could encompass everything from the Vermeer forger Han van Meegeren to the phenomenon of David Hasselhof; from contemporary Scottish dance to the inappropriateness of the seventies sitcom "On the Buses". He believed in enquiry without constraint, discussion without boundaries. He possessed a coruscating wit that could at times be intimidating, but nonetheless, he was extremely loyal to his friends. Indeed, his range of friends constitutes a considerable chunk of contemporary Scottish culture including dancers, musicians, artists, filmmakers, comedians and writers. His death is first and foremost a tremendous loss to his loving family, and in a wider sense, to the cultural life of Dundee and the rest of Scotland.